Capacitive switches, also known as capacitive sensors or capacitive keys, are the interface option of choice for a variety of appliance, medical and industrial applications that don't require the functionality of a full touch panel but require an elegant, dependable and sealable solution. Depending on the application requirements, capacitive switches can be backlit or integrated into a display assembly for a cost effective but sleek and extremely modern design.
A capacitive touch switch works by using body capacitance, a property of the human body that gives it great electrical characteristics. As the user's finger gets closer to the switch's surface, the switch's electronics detect a change in the capacitance of the surface and registers a touch. Capacitive switches can also integrate sliders or wheels for additional control functionality.
Because there are no mechanical components or moving parts, and the sensors can be placed and sealed underneath a rigid material (such as glass, PET or ABS), capacitive touch controls have excellent reliability and life spans.  With the additional benefit of zero force actuation, capacitive switches enhance the user experience of any product.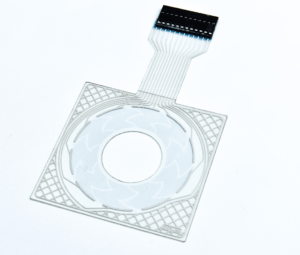 Wide-Ranging Design & UI Flexibility
The exceptionally simple, flexible and modular design of capacitive switches offer a number of key benefits:-
Long lifespan– up to millions of touches, No moving parts to breakdown or fail
   Easy integration– plug and play HMI assemblies
   Design Flexibility– Flexible substrate allows for greater design choice, different panel geometries and thinner stack-ups
   Quicker Development & Lead Times– Modular design allows for faster and easier development; printing technology allows for 8-10 day turnarounds
Finishing– Variety of materials and display solutions allows for easy price and design differentiation
Turn-key Design & Manufacturing Solution
One of the few suppliers in the industry with extensive home appliance experience and the capability to provide a full touch solution to customers: from the product design, software and IC tuning, to final production and display integration.
   Capacitive touch sensor design and manufacturing
   Cover lens and touch sensor optical bonding in a class 1000+ cleanroom
   Dignity can provide patented modular IC as well as touch software & firmware design support
   Full touch display module production and integration available, with LED & LCD displays, back-lighting, etc.
   Display board development and sourcing support available
Highly Customizable
Capacitive Switch Design Options – Dignity has a wide variety of product options to provide a customized solution for your application needs.
Cover Lens Material – we can provide the switch assembly integrated into the cover lens through our in-house bonding process
Display Assembly – the capacitive switch can be provided as a full assembly with an integrated LCD/LED/OLED display
Touch Input Methods – touch inputs can be accomplished through simple button controls, panel controls, sliders and or wheels
Back-lighting – a variety of back-lighting methods and colors are available
Touch Controller – the touch controller can be embedded in multiple ways with the touch sensor assembly (COB/COF), including through Dignity's patent pending modular IC design