For more than two decades, Dignity Electronics' membrane switches have acted as a reliable interface solution for a wide variety of industrial and consumer electronic applications. We are one of the world's largest suppliers of membrane switch solutions, shipping switch assemblies both domestically and worldwide to a range of the world's largest appliance manufacturers.
Flexible membrane keyboards are one of the most common interface products and we offer a number of varieties and options for appliance, industrial and medical applications. Whether the application calls for tactile, non-tactile, silicone, hard-coated, flexible or rigid PCBs, Dignity can provide a solution with our extensive in-house manufacturing capabilities. We have a full range of options and customizations that can provide the needed functionality, finishing and performance for customers.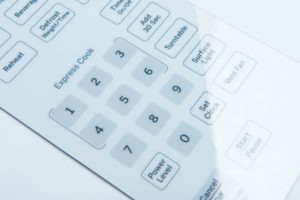 Membrane Switch Design Options
Dignity has a wide variety of product options to provide a customized solution for your application needs.
Overlay Material – we offer a variety of substrates from PET to PC to PVC to ceramic to silicone
Graphics & Design – we can provide membrane designs with a variety of textures, UV coating and graphical design, from 2-10 color designs, including full images
Finishing – we can supply membrane switches with brushed stainless-steel appearance, soft touch, embossing and a variety of other options.
Back-lighting – a variety of back-lighting methods and colors are available, from embedded LEDs to electro luminescent or fiber optical lighting options
Switching – the membrane switch can incorporate various switches with tactile or non-tactile response, metal and plastic domes, a range of actuation forces, etc.